Biosophy.org
From Bioinformatics.Org Wiki
Biologists need philosophy as the first thing in their career
Who is the target audience?

na

What is the primary function of the wiki?

na

What 'reward model' do you use (if any)?

Altruism

What custom features are used?

na
Biosophy.org is the information portal for enhancing Biosophy, the philosophy for all the information processing objects in the universe.
Biosophy.org is maintained by Lara Smithe.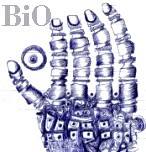 People:
Institutions:
Data table
Biosophy.org
Contact
email
Created
2008/02/05
Content pages (new)
66 (22)
Users (active)
56 (4)
Contributions*1 (edits)
871 (45)
Table notes:
Values in parenthesis are automatically collected over the previous month.
*1 Contributions are defined as: Raw edit count
Links
References
none specified

To add a reference for Biosophy.org, enter the PubMed ID in the field below and click 'Add'.
Search for 'Biosophy.org' in:
| Web Search | Wiki Sites | Scientific |
| --- | --- | --- |
| | | |