Shailender Nagpal
From Bioinformatics.Org Wiki
Shailender Nagpal is a data analysis consultant in the biotechnology and pharmaceutical industries and specializes in the interpretation of data generated from various platforms in drug discovery, such as genomics and proteomics.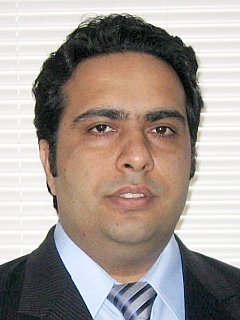 Computer skills
Programming

C/C++ - coursework, debugging and modifying large C++ projects
Perl, Python - text processing (regular expressions), data management, integration, algorithms
Matlab – data analysis and visualization, GUI building, integrating data sources and applications
Java – used Java classes and JAR files in integrated applications

Databases

Oracle 9i – DBA for structural genomics database (tracking a protein structure determination pipeline)
MYSQL – coursework, MIAME compliant microarray database (populated and accessed through Perl)
MS Access, VB – to access and quert Oracle database (linked tables) and schema

Statistics

Matlab for problems in statistics, optimization, neural networks, differential equations
R – analysis of microarray data (Bioconductor, Limma)

Operating Systems

Windows, Linux (sys admin tasks, network configuration, shell scripts)

Web Programming

HTML – Designed static HTML pages, used WYSIWYG tools like FrontPage.
XML – created XML documents, converted XML to database, parsed XML files into programs
Web Services - accessed data using SOAP, WSDL protocols
Computational biology skills
Sequencing, alignment, oligo design, RNAi, DNA/ protein structure prediction, phylogenetics
Gene expression microarray data preprocessing, filtering, clustering and classification
SNP genotyping, linkage, LOH analysis
Image Processing of cell biology microscope images, 2D gels, MRI, cancer tissue classification
Mass spectrometry data preprocessing, biomarker identification and building predictive models
Pharmaceutical data analysis like in-silico modeling of structures, Pk/pd modeling, IC50 curves
Biostatistics – hypothesis testing using ttest, anova. Regression models, PCA.
Other relavent skills
Algorithm/ workflow/ pipeline development – rapid prototyping and scripting using Matlab, Perl
GUI development – using Matlab
High Performance Computing – using MATLAB's Distributed Computing toolbox
Data Integration – setting up environments for integrating a variety of data sources and software tools.
Data mining – use of programming languages and databases to ask complex questions and create visual reports.
Proteomics and Genomics for Pharmacogenetics, Toxicology, Biomarker Discovery, Target Discovery
Education
University of Southern California, Los Angeles
Master of Science - Computational Molecular Biology (Dec, 2001)
Master of Science – Chemical Engineering (Dec, 2000)
Manipal Institute of Technology, India
Bachelor of Engineering – Chemical and Biochemical Engg. (Jun, 1998)
Coursework
Computational biology, statistical inference, machine learning, genetics, databases, programming language design, mathematical modeling, probability, molecular biology, microbiology
Publications
Karaman MW, Houck ML, Chemnick LG, Nagpal S, Chawannakul D, Sudano D, Pike BL, Ho VV, Ryder OA, Hacia JG. "Comparative analysis of gene-expression patterns in human and African great ape cultured fibroblasts." Genome Res. 2003 Jul;13(7):1619-30.
Nagpal S, Karaman MW, Timmerman MM, Ho VV, Pike BL, Hacia JG. "Improving the Sensitivity and Specificity of Gene Expression Analysis in Highly Related Organisms Through the Use of Electronic Masks" Nucleic Acids Research, Mar'2004. 32(5)
Nathalie Leclerc, Cynthia A. Luppen, Vincent V. Ho, Shailender Nagpal, Joseph G. Hacia, Elisheva Smith and Baruch Frenkel. "Gene Expression Analysis of Glucocorticoid-inhibited Osteoblasts using Microarrays" (accepted for publication by Journal of Molecular Endocrinology)
Darren Magda, Philip Lecane, Dale Miles , Cheryl Lepp, Mimi Mesfin, Richard A. Miller, Danny Chawannakul, Shailender Nagpal, Vincent V. Ho and Joseph G. Hacia. "Motexafin Gadolinium Induces MTF-1 Regulated Genes and Potentiates Zinc Cytotoxicity in A549 Lung Cancer Cells". Oncogene, Jan '2005
Magda D, Lecane P, Miller RA, Lepp C, Miles D, Mesfin M, Biaglow JE, Ho VV, Chawannakul D, Nagpal S, Karaman MW, Hacia JG. – "Motexafin gadolinium disrupts zinc metabolism in human cancer cell lines". Cancer Res [ 2005 ] May 1;65(9):3837-45
Shai Ruty, Reichardt Juergen K V, Nagpal Shailender, Kremen Thomas J, Liau Linda M, Cloughesy Timothy F, Mischel Paul S, Nelson Stanley F. "Robustness of gene expression profiling in glioma specimen samplings and derived cell lines". Submitted to Brain Pathology