Gene Wiki
From Bioinformatics.Org Wiki
Working towards a review article for every human gene, on Wikipedia
Who is the target audience?

Anyone interested in human genes

What is the primary function of the wiki?

To synthesize published knowledge of gene function

What 'reward model' do you use (if any)?

Its Wikipedia..

What custom features are used?

na
Description
The Gene Wiki is dedicated to the goal of applying community intelligence to the annotation of gene and protein function. It is an informal collection of Wikipedia articles on human genes and proteins, and this effort to develop these pages is tightly coordinated with the Molecular and Cellular Biology Wikiproject. Our specific aims are summarized as follows:
To provide a well written and informative Wikipedia article for every notable human gene
To invite participation by interested lay editors, students, professionals, and academics from around the world
To integrate Gene Wiki articles with existing Wikipedia content through the use of internal wiki links increasing the value of both
Home page
Source & executables
Documentation
Contact information
See also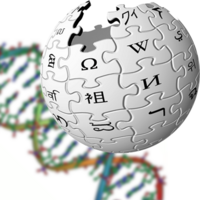 People:
Institutions:
Data table
Gene Wiki
Contact
email

warning.png

Empty strings are not accepted.

Created
2007/06/06
Content pages (new)
10326 (0)
Users (active)
3500 (0)
Contributions*1 (edits)
35000 (0)
Table notes:
Values in parenthesis are automatically collected over the previous month.
*1 Contributions are defined as: This is all edits for the year 2010.
Links
References
none specified

To add a reference for Gene Wiki, enter the PubMed ID in the field below and click 'Add'.
Search for 'Gene Wiki' in:
| Web Search | Wiki Sites | Scientific |
| --- | --- | --- |
| | | |