OpenWetWare
From Bioinformatics.Org Wiki
Share your science
Who is the target audience?

na

What is the primary function of the wiki?

na

What 'reward model' do you use (if any)?

Altruism

What custom features are used?

na
OpenWetWare is an effort to promote the sharing of information, know-how, and wisdom among researchers and groups who are working in biology & biological engineering. OWW provides a place for labs, individuals, and groups to organize their own information and collaborate with others easily and efficiently. In the process, we hope that OWW will not only lead to greater collaboration between member groups, but also provide a useful information portal to our colleagues, and ultimately the rest of the world.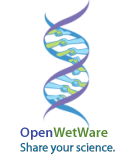 People:

Institutions:
Data table
OpenWetWare
Contact
email

warning.png

Empty strings are not accepted.

Created
2005/04/20
Content pages (new)
17487 (325)
Users (active)
8452 (216)
Contributions*1 (edits)
467083 (2060)
Table notes:
Values in parenthesis are automatically collected over the previous month.
*1 Contributions are defined as: Raw edit count
Links
References
none specified

To add a reference for OpenWetWare, enter the PubMed ID in the field below and click 'Add'.
Search for 'OpenWetWare' in:
| Web Search | Wiki Sites | Scientific |
| --- | --- | --- |
| | | |