P.K. Suresh
From Bioinformatics.Org Wiki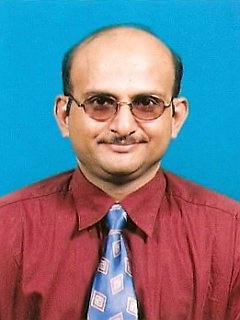 Dr. P.K. Suresh, Head, Department of Biotechnology, received his Bachelor's degree in Zoology from the University of Madras. Subsequently, he received his master's degree in Environmental Toxicology from the Department of Pharmacology & Environmental Toxicology, University of Madras and stood first in the University examinations. He left for the United States of America for his second masters in Environmental Studies (Science Option) from the Department of Environmental Studies Southern Illinois University at Edwardsville, Illinois, USA. He then proceeded to Cincinnati, Ohio where he worked in their laboratories for 6 years and this effort culminated in the award of the Ph.D. degree from the Department of Environmental Health (Division of Toxicology), University of Cincinnati. His work there was involved with the standardization of a protocol for the culture of primary murine keratinocytes as well as protocols of determining DNA damage using biochemical/molecular and cytogenetic biomarker assays. His work, as the Principal Investigator, in a 3 year project ("MOLECULAR DOSIMETRY FOR CARCINOGENS") was funded by the National Institute of Occupational Safety and Health as well as the National Institute of Environmental Health Sciences. He presented his findings in International conferences in Portland Oregon, as well as in Baltimore, Maryland, USA. He was subsequently a Post-doctoral fellow from the Department of Pharmacology & Toxicology, University of Texas at Austin for about a year (1995-1996). His work, under the able tutelage of his mentor, involved culturing human lung and erythroleukemic cell lines as well as performing Western blotting and PCR experiments, with direct applications in apoptosis and this work culminated in a publication in Toxicological Sciences as well as a presentation in an International conference Annaheim, California. His second post-doctoral effort was also in the Department of Pharmacology & Toxicology in Rutgers University, Piscataway, New Jersey, USA and this position provided him an opportunity to learn and apply techniques like oral feeding of mice with volatile solvents and develop assays for biomarker development and their validation using in vivo assays as well as their correlation with results from human liver cell lines.
After his return to India, his first major assignment involved primarily teaching graduate and post-graduate students in an Arts and Science College in Coimbatore. He also headed a couple of departments (Biotechnology & Industrial Biotechnology) in the same college. Apart from his teaching responsibility, he was also the Principal Investigator in a 2 year Major Research Grant from The University Grants Commission, Government of India, ("IN-VITRO ANALYSIS OF LEUKOCYTES AND LUNG CELL LINES EXPOSED TO ASBESTOS, A SIGNIFICANT OCCUPATIONAL POLLUTANT, TO DETERMINE ITS GENOTOXICITY AND MECHANISMS OF ACTION") (Ref. No.: F.3-36 2003 (SR) (2/7/2003-1/6/2005).
He returned to Chennai and worked as a Research Scientist in an organization in oral health research and he was involved in culturing human oral explants from gingiva/buccal mucosa. Apart from his research assignment, he was invited to be the GUEST EDITOR, for a Special issue "GENE EXPRESSION SIGNATURES IN CANCER" and is on the editorial board of the International Journal of Human Genetics. As a research scientist in the aforesaid organization, he was an INVITEE in the DBT-sponsored meeting at the biomarker strategy for Oral Cancer at New Delhi.
He has approximately 5 years experience teaching and/or administering Biotechnology/Industrial Biotechnology departments and has presented several papers in National and International conferences as well as published research/review articles in peer-reviewed journals as well as in local newspapers. He has guided post-graduate as well as B.Tech students in project work and under his guidance, a paper was published in the Journal of Ethnopharmacology (Elesevier). He has also served as a Member, Board of Studies in Bharathiar University, Coimbatore and is recognized by the same University to guide Ph.D students in Biotechnology. Further, he has had extensive research experience and most of this was acquired in different University/private laboratories in the United States of America as well as in India.